5 Things Parents Must Know About Child Nutrition
As a responsible parent, put your child's nutrition first. It is the bedrock of sound physical and mental development. In the 21st century, 149 million children under 5 years of age suffer from stunting, according to an article by the United Nations Children's Fund (UNICEF). A confusing diet schedule during childhood is the main risk factor for both malnutrition and obesity. And it can continue up to adulthood, leading to diabetes, high blood pressure and high cholesterol.
Nutrition through the right foodsneed not be a tough task. Here's some useful information about child nutrition every parent must know.
1. Nutrition Needs
Pediatric gastroenterologists in Chennai recommend sufficient intake of protein, carbohydrates, calcium, fats, folate, iron, Vitamin A and C, and fiber. Therefore, create a well-balanced meal plan that includes meat, poultry, whole grains, nuts, whole milk products, spinach, tofu, lentils and egg. While protein helps build tissues and muscles, fat provides the require energy to stay active for long hours. Calcium improves gums and bones, iron promotes healthy blood and fiber aids in stable bowel movements.
2. Portion Control
Parents are mostly anxious that their child is not getting enough food. As a result, the little one is often overfed. This could be quite unhealthy, leading to throwing up or uneasiness in the body. Encourage them to stop eating when they feel full. Try to keep a check on the serving size throughout the day. Small quantities of different foods should be divided into three larger meals and two snacks. Do not let them skip any meal, since it can lead to overeating at the next meal.
3. Healthy Eating Habits
Along with providing a well-balanced diet, building a healthy eating habit in childhood can serve as a great learning for life. Keep the salt intake low to stay away from hypertension and heart risks. In fact, the World Health Organization aims to reduce the global sodium intake by 30% by the end of 2025. This could stop the rise of obesity issues in children. The intake of saturated fat and sugar must also be controlled, for additional health benefits. Infants should be breastfed for the first 6 months of life. Following this, nutrient dense solid foods can be introduced gradually.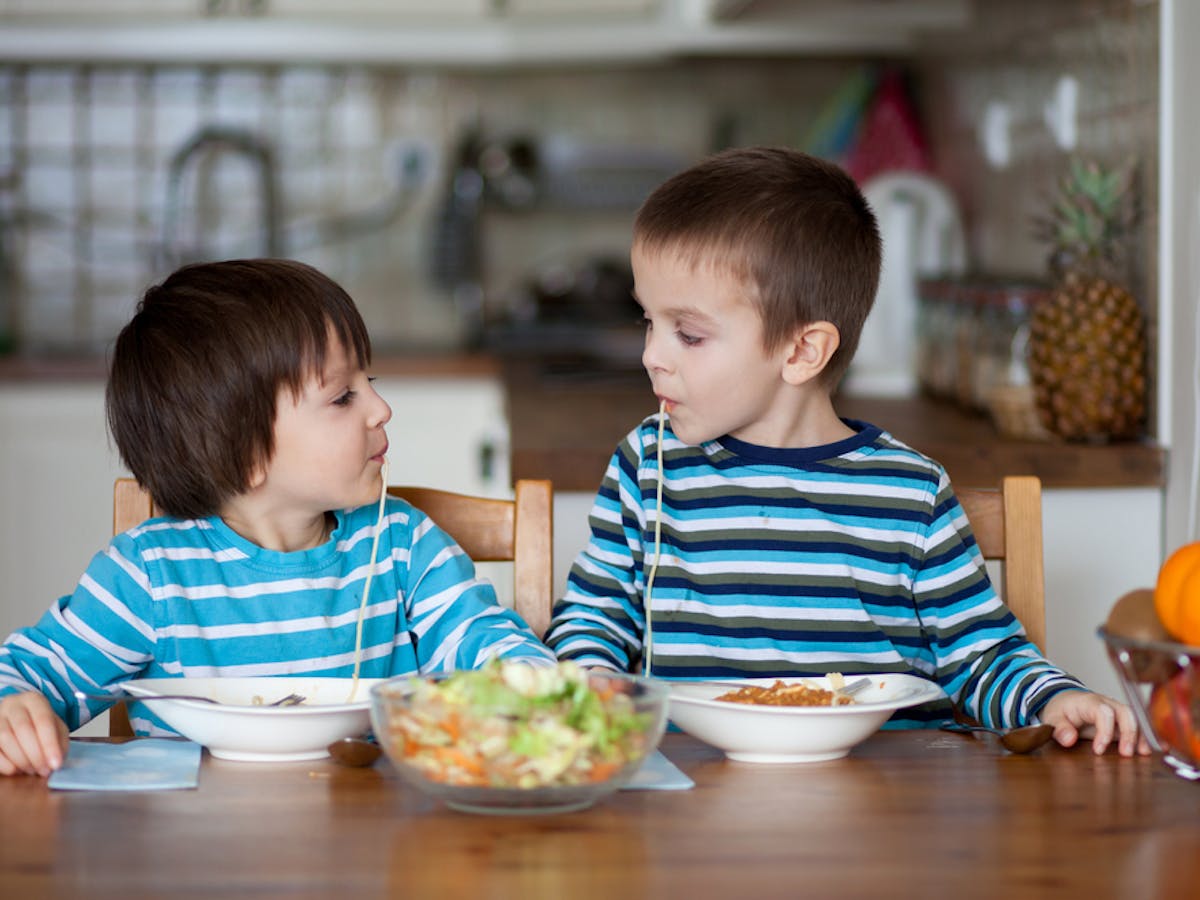 4. Read the Labels
Food packages come with detailed information of the nutrient content. Look for the quantity of sodium, trans fat, saturated fat and refined sugar. Understand what the numbers beside each element means. For example, 25% iron means the food contains one fourth of the maximum iron a person can consume in a day. Be careful while picking up "all natural" products, since this is not necessarily true. Check the calories, fat, dietary fiber, vitamins and minerals per serving and help the child eat accordingly. Do your own research and identify the safest food before heading to the market.
5. Make Mealtime Fun
If you have a picky eater at home, getting them to eat balanced meals could be a challenge. Unleash your creativity to fill their tummies with the right foods. Cut bread into different shapes, let them pick their favourite colored vegetable and get them involved in cooking. This way, the child will relish the food they eat. Feeling sluggish or lazy while eating might not yield the right nutritional benefits. Therefore, help the child take an interest in a healthy body and mind.
Pediatric gastroenterologists in Chennai offer consultation regarding child nutritiondos and don'ts. Get in touch with them to understand how to inculcate good eating habits in your child. Additionally, make sure a healthy diet is accompanied by at least 7-8 hours of sleep at night and 30 minutes of physical exercise daily.